Dies ist die englische Version der Equipment-Seite.
Um zur deutschen Version zurückzukehren, klicke bitte .
---
This (english) version of the equipment-page is quite outdated. We're working hard on publishing a new translated page, until then you can view the 2016 version in english here; for an (more or less) up-to-date version of the equipment page, please refer to the german version.
---
Slate
The first
slate
is made of a floor board, two pieces of metal as joint, another piece of wood and blackboard film.
The second
slate
consists of a plastic board and a foil.
additional pictures coming soon…
Camera
For some time now I'm a proud owner of a
Pocket Cinema Camera
by
Blackmagic Design
(short:
BMPCC
). As lenses I mainly use old manual
Pentax-
glass via an adaptor. That works pretty fine; the lenses still have a very good quality, and working with them is a dream (especially compared to modern cheap plastic lenses). The handling of the camera is very simple, too. It's actually quite minimalistic; but don't get me wrong: There are all essential functions available and at hand, but not more. No unneeded automatics, no deep menues etc.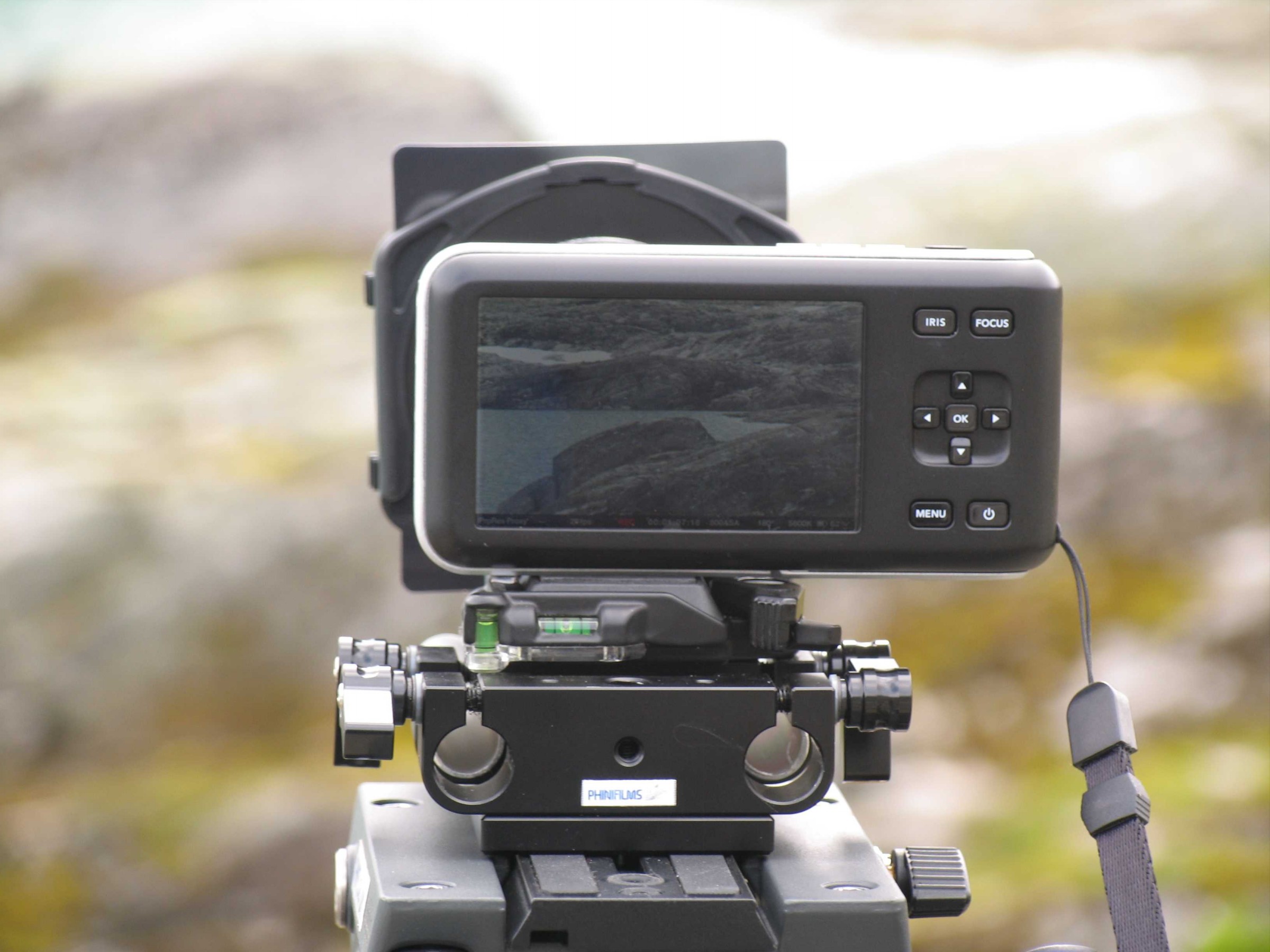 But that gets totally beaten by the quality of the shots you get with this camera! I don't even want to talk about sharpness which is complimented by all the others; I can't actually see that much of a difference compared to other cameras. Sure, the image is sharp, but not extremely. But maybe that is due to my old lenses. Whatever. The dynamic range is by all means overwhelming, the flat image profile is very useful, and I've never seen so few artefacts in a video from a camera of even nearly that price. Just to make it clear: At least when recording in ProResHQ there are literally none!
The only thing that really bothers me, and which is why I am almost regretting the buy of the cam a bit (but just a very tiny bit), is the small sensor size and the "crop factor" caused by that. This can be really annoying, especially when shooting with old glass with the smallest focal length of 28mm, what due to the crop becomes an equivalent of roughly 85mm. But I have to live with it, because for that price there simply isn't another camera with this incredible image quality.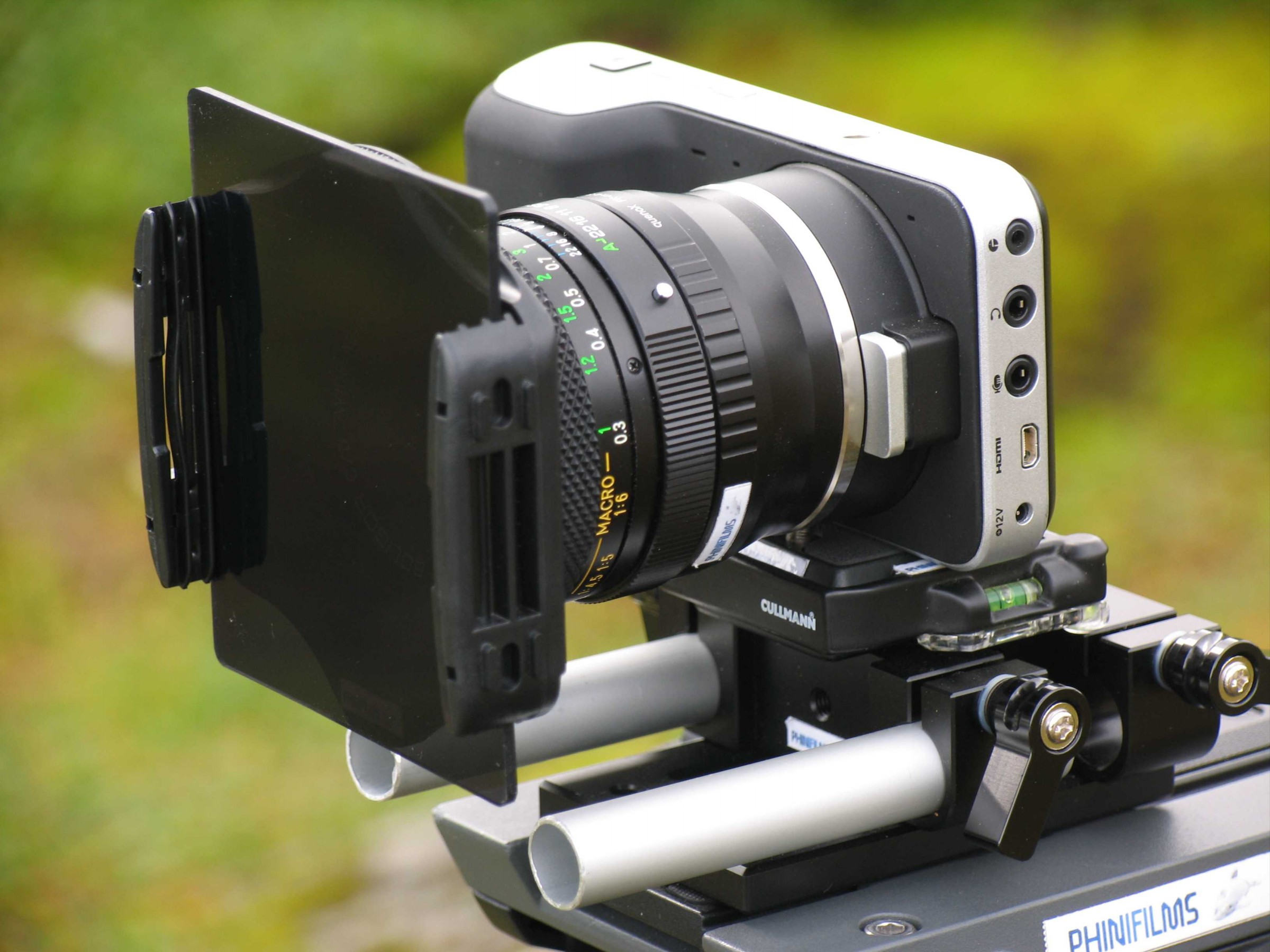 Lenses
Currently, I own the following lenses to use in combination with my BMPCC:
Pentax-K

-glass:
MC Soligor C/D 28mm f/2.8
Pentax-M 50mm f/2.0
MC Soligor S/M 35-70mm f/3.5-4.0
Auto Revuenon MC 70-210mm f/4.0
M42

-glass:
MFT

-glass:
Olympus M.Zuiko Digital 14-42mm f/3.5-5.6 II R
Currently I am adding follow focus gears to all my lenses, which are custom made for me by A. Jungierek. Huge thanks to him!
Shoulder Rig
A
Rig
made from different components, which works great and hasn't cost much. The rod clamps, the shoulder pad, the c-arm and the quick release system are bought online, the 15mm rods at the hardware store and the handles are self made.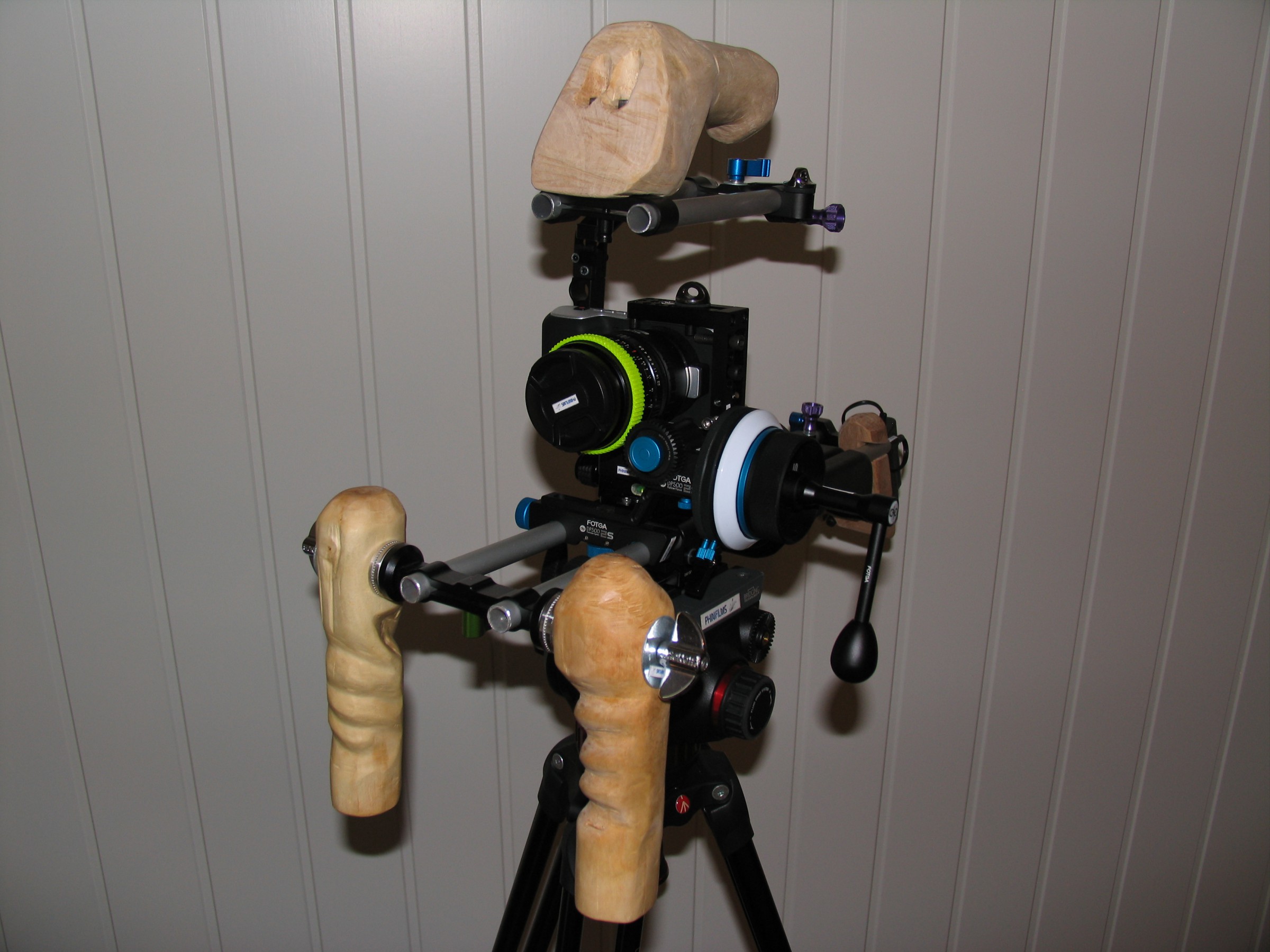 The following contains info about some of the parts:
Quick Release System
As a QR-Sytem I curently use a combination of
Arca-Swiss
style plates
and
-clamps
as well as the
Manfrotto
323-
and
PL200-replica
.
More info on this coming soon…
Rig Handles
Self-made
wooden
rig handles
.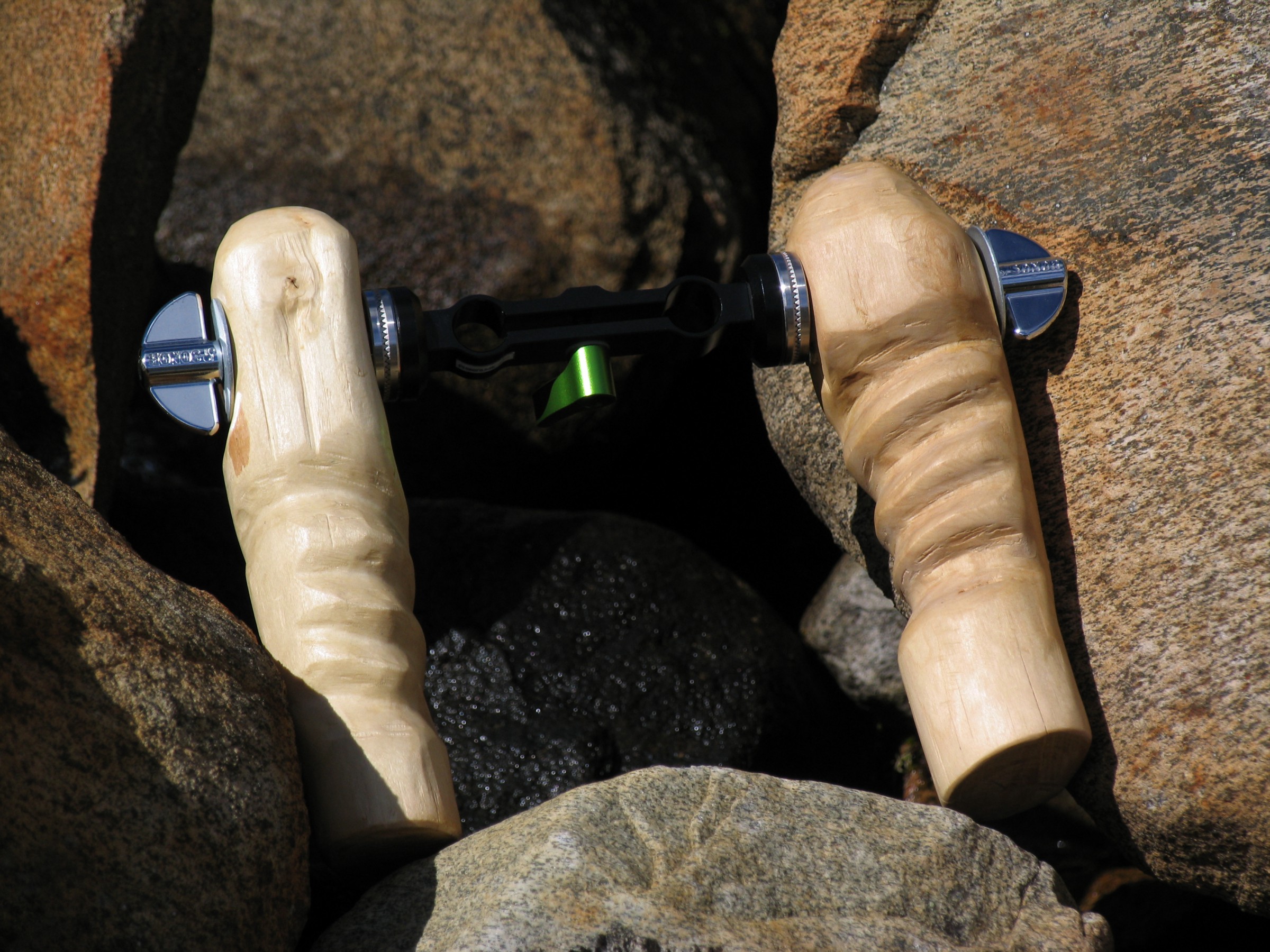 Follow Focus
The
Fotga
DP500IIS
with A/B hard stops and an open Rod-Clamp for making it easy to mount onto the rig.
Power
After researching and testing for a long time I finally found a good solution for powering my BMPCC-Rig:
Sony
L-Series NP-F
-batteries.
For this I bought a battery plate with built-in 12V-booster an built a rig-mounting-plate for it.
Rig-Accessories
Self-Made accessories for the rig: A double-rod-clamp consisting of a cheap single-clamp and a piece of wood; several self-made wing screws fro wood with a piece of threaded bar glued in.
Old Rig
This early version of the shoulder rig doesn't exist anymore, it has been reconfigured (see above).
Handle grip
Due to the fact I now own a way more complex camera rig I rarely use the
X-GRIP
by
Opteka
anymore, but it's still good when size and weight of the used equipment matters, or when the rig already is in use.
Tripods
Some of the equipment I didn't built myself are my tripods.
Manfrotto 502
My biggest, most stable, most expensive and simply best tripod is by
Manfrotto
; it consists of the tripod legs
MVT502AM
and the fluid head
MVH502A
.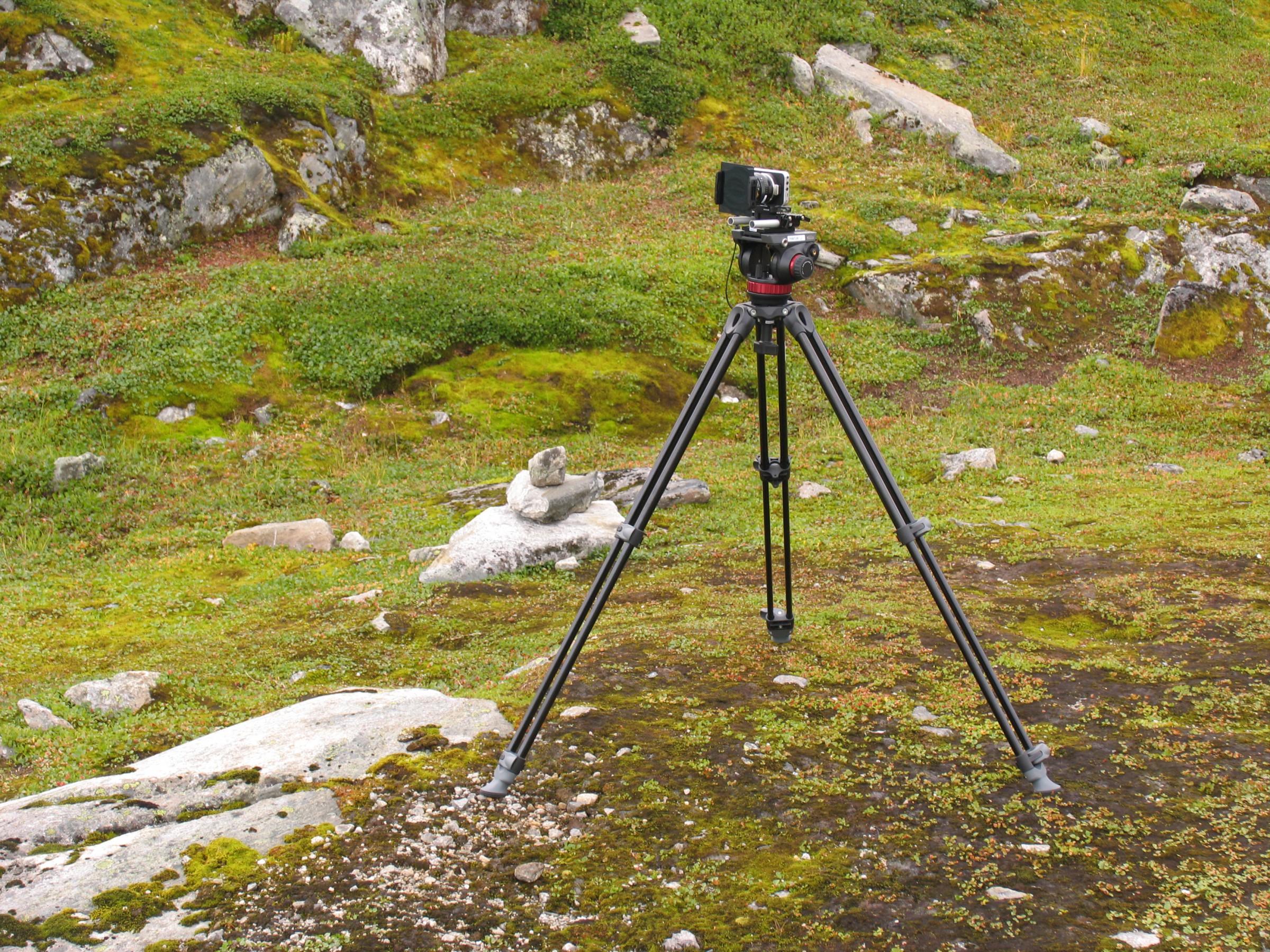 Ultrapod II
The smallest one which has a small ball head can be mounted nearly everywhere with a strip of velcro.
Cullmann Alpha 2500
The
Cullmann
Alpha 2500
is cheap, lightweight and very compact when broken down, but extended it reaches a valuable height. But it only has a fricton head what makes it difficult to impossible to get smooth pan and tilt shots. So this is a tripod for static shots.
Jib
Out of a Christmas tree stand, one short and one long balk, three short bars, some screws and bands and an old barbell (previously a sack full of gravel) I built a
jib
, with which one can make pretty cool shots. I mounted a
Cullmann
CB7.1 ball head
as camera mount which makes it easy to position an level the camera on the jib.

Dolly
The
rail dolly
was made out of an old pair of inline skaters (or rather the wheels of them), two halves of an aluminium profile, a big wooden plate and some screws, the tracks are also aluminium profiles. It is big enough to place both a tripod and a a chair for the camera operator on it.

Lighting
It's time to look after my lighting gear. In the near future I plan buying some lamps as well as some rigging equipment.
Until now I own the following lamps:
Four

LF 1000

symmetrical 1kW Area lights from

ADB

Two

L.A.F.

PF-6305

asymmetrical 500W Flood lights
One

Redhead

800W Open-Face-Light
Two

Ultralite

Pico 300

PC-Lens-Lights
Several

PAR 56

with 300W MFL and NSP bulbs
Three

PAR 30

with different 75W bulbs
Two

JB Systems

iColor 4

RGBY-Flood-Lamps with 4x500W bulbs
Multiple small RGB-LED-Lamps from China
And the rigging-equipment: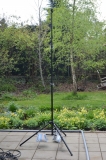 Two Mic Stands
Two Light Stands

Millenium

LST-250

Two Light Stands

lightmaXX

LS-1

Four

Manfrotto

Super-Clamps

Two

Manfrotto

Rapid Adapters

Several Studs from

Manfrotto

und

Adam Hall

Some sandbags (self-sewed)
And miscellaneous light-formers:
Several

Lee

light gels

:

201 Full & 202 Half CTB (Color Temperature Blue) • 205 Half CTO (Color Temperature Orange) • 250 Half & 252 Eight White Diffusion • 253 Hampshire Frost • 021 Gold Amber • 164 Flame Red • 141 Bright Blue • 085 Deeper Blue • 058 Lavender • 048 Rose Purple • 213 White Flame Green • 738 Jas Green • 100 Spring Yellow

A DIY 2x2m frame from PVC-pipes [lining: bed sheet (diffusion)]
A DIY 1x1m frame from wooden bars [lining: Molton (flag)]
Black

molton

for flags and negative fill
Styrofoam boards as reflectors
A roll of

black wrap
Audio
Microphone
My microphone is a
VideoMic
by
Røde
. It has a stereo audio jack (3.5mm) and is mountable via an accesory shoe. To use this mic a nine-volt batterie is required (or a rechargeable battery).
additional pictures coming soon…
Audio Recorder
When it is not reasonable to plug the microphone directly into the camera, or I need some good sound without a lot of work, I record the sound with an
H1 Handy Recorder
by
Zoom
. Besides a microphone input and a headphone jack it also has a built-in stereo mic. It records onto a micro SD card.
Mixer
For Live-Mixing at events and concerts I have a live mixer, a
FX 2222
from
Behringer
. It has 8 Mono-Channels with XLR-(Mic-) and Line-Inputs, Insert, Gain-Control, Compressor and semi-parametric 4Band-EQ as well as 4 Stereo Line-Channels with +4/-10db switch and 4Band-EQ. Also, every channel has 3 AUX-Lines, one of which goes to the built-in effects-processor. All channels can be muted over a big button with indicator-LED and are each routable to Main and SubGroup. Apart from the channel fader, there is also a Pan-Poti per channel.
A headphone-output can be regulated with a Poti, and the per-channel Solo is switchable to PFL.
Speakers
Tha loudspeakers of my PA are two
Fame audio
Challenger 15A
active Speakers.
Microphones
For studio and concert recordings as well as live-events, of course you need some microphones. Until now, I own the following, that all have a very good quality for a very low price::
Two

the t.bone

EM722

small-diaphragm condenser mics
A

Superlux

PRA D1

dynamic vocal mic
A

Behringer

XM8500

dynamic vocal mic
Kopfhörer
I have several pairs of headphones, all for a different purpose:
Superlux

HD-681 B

– ear-surrounding, open headphones for studio use

Superlux

HD-662 F

– ear-surrounding, closed headphones for live use

Songful

S1

– closed In-Ears for In-Ear-Monitoring
Audio-Rack
It is nice to have all sound devices for concerts and events in one place, so I built myself a
Rack-Box
. It holds all my 19-Inch audio devices.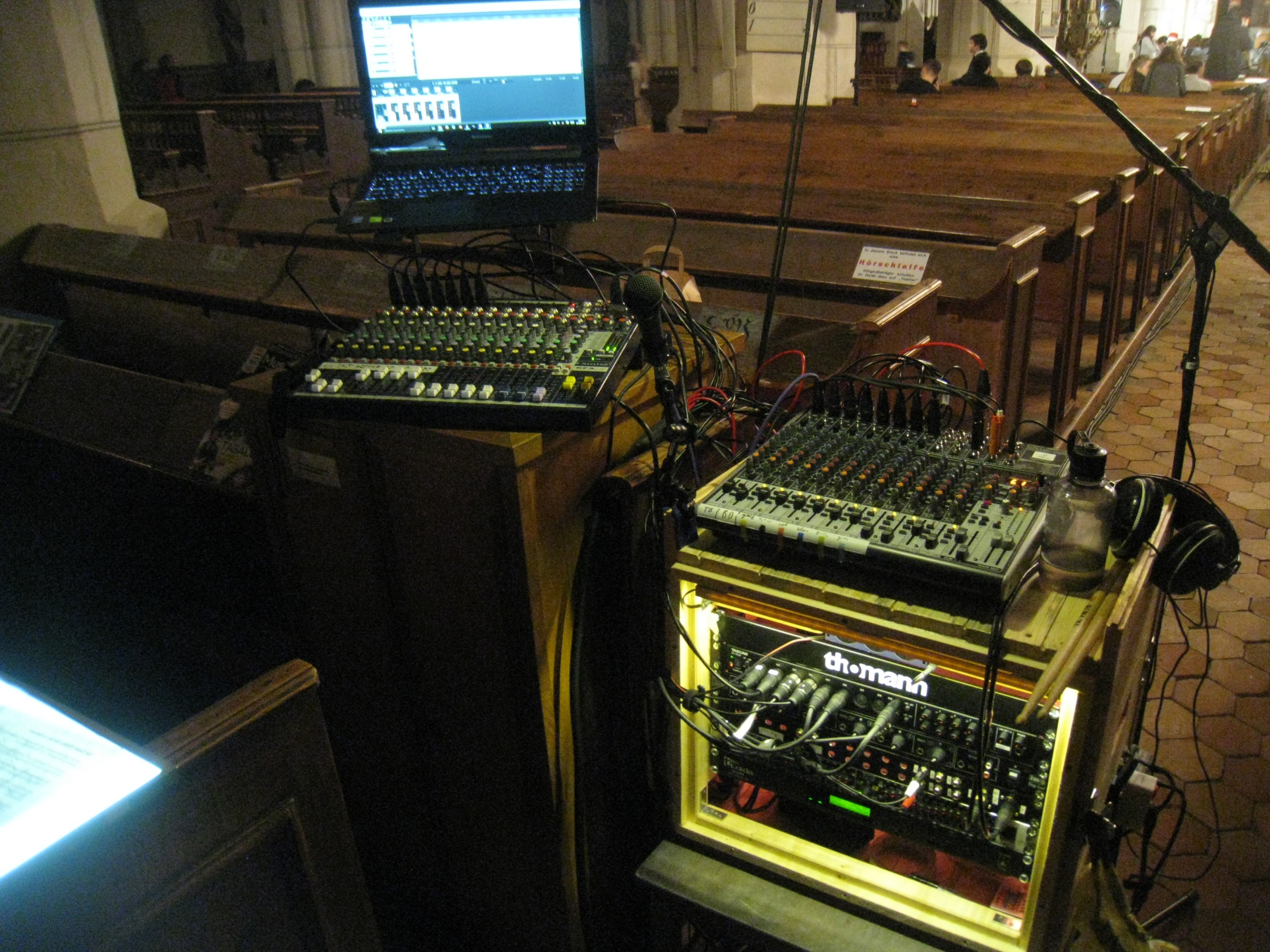 Interface
For more complex concert recordings or muti-channel studio recordings I have the
US-16×08
from
Tascam
. An audio interface with USB 2.0, 8 adjustable mic inputs with grouped phantom power, 8 line inputs (two of them adjustable) and 8 line outputs.
Images coming soon…
Microphones
For the same studio and concert recordings you need, of course, some mics. Until now I own two
the t.bone
EM722
small membrane condenser mics, which deliver a very good quality for a low price.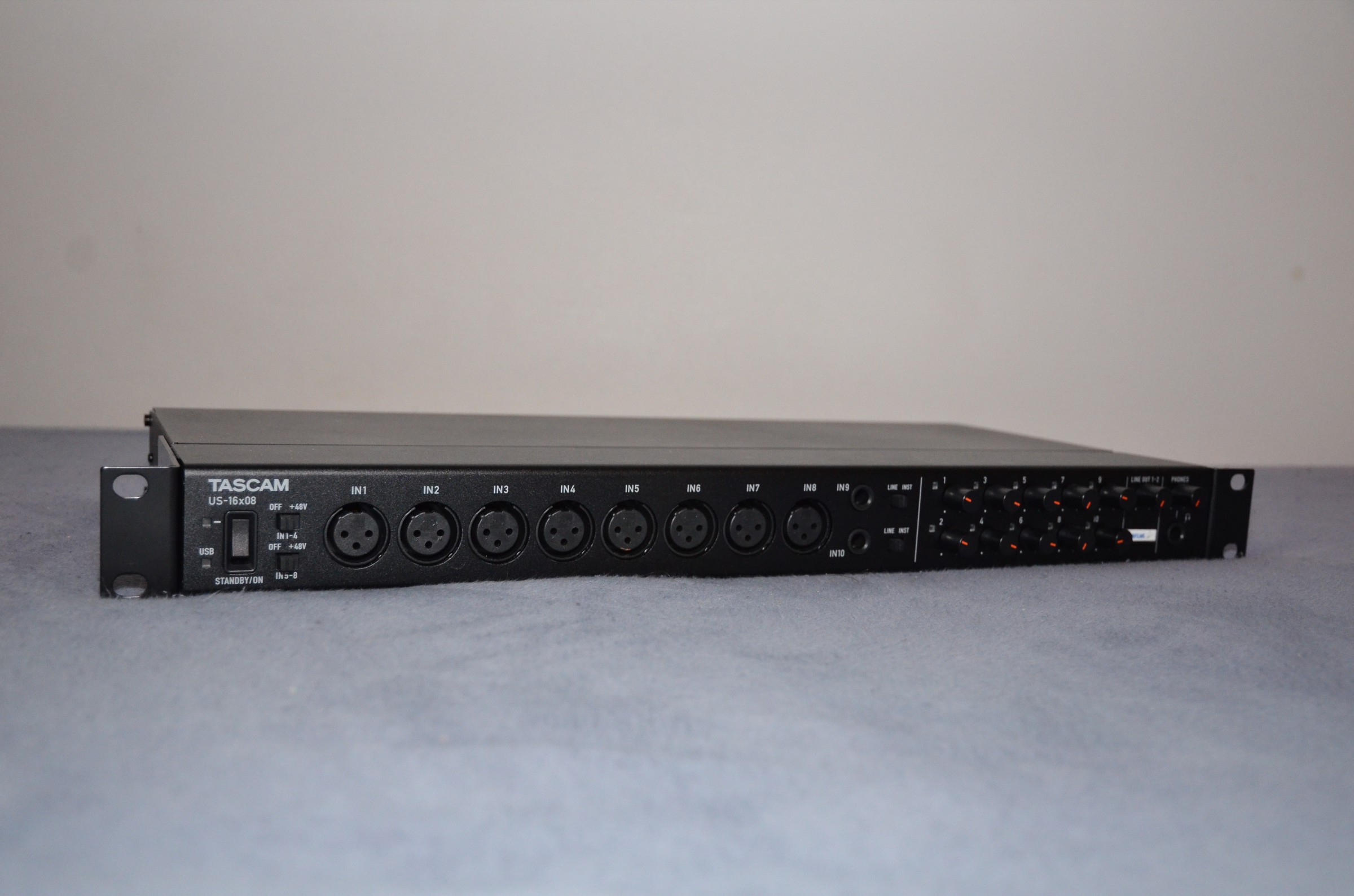 Headphone Amplifier A 6-channel headphone amplifier from
img StageLine

, the

PPA-100/SW

. Individual loudnes control as well as switching between Main- and Solo-Input per channel.




Stereo-Equalizer The
Behringer

Ultragraph Pro FBQ 1502

, a graphic stereo equalizer, is used for adjusting the main-signal to the room sound.




Patch-Panel A self-made patch panel, to reach the rear inputs of the devices from the front. Apart from two XLR-Inputs for the Mixer output, it has holes for 22 TRS-Jacks.


Editing system My editing computer is a
Z210

-workstation by

Hewlett-Packard

. It is equipped with a

XENON Quadcore CPU

by

Intel

with 4 X 3.2GHz and 16Gb of RAM. The GPU is a

Quadro FX 1700

from

NVIDIA

.
 My backup computer is a

xw4600

-workstation, also by

HP

, with an

Intel

Core 2 Dou

with 2 X 2,1GHz, 8Gb of RAM, as well as a

Quadro FX 2000

by

NVIDIA

.


Periphery:
I use: a backlit

PS/2-keyboard

by

HP

(KB-0316), a

PS/2-mouse

by

HP

, a 3D-mouse by

3Dconnexion

(

SpacePilot

), a desk lamp by

IKEA

and two

ACER

-screens (

x203w

&

AL1912

).

Software:
Apart from the Windows-7 operating system (Prof, 64bit; I try to change to UbuntuStudio [Linux]) I only use free software. The main software for a long time was

Blender

, with which I used to edit and color-grade, design image effects and VFX, single pictures and (titel)animations. Now I am using Blackmagic&s

DaVinci Resolve

for editing and most importantly for grading. I also use:

Gimp, Scribus, Audacity, Reaper, Celtx, ffmpeg

&

WinFF

and

DVD-Styler

. And, of course, I use

Open Office








Accessory
There're lots of accessories that are not worth a whole post, but still important and worth to be mentioned.
Self made glowing signs with interchangeable gobos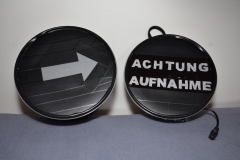 Small monitor to mount on the jib or rig:
Powerbank (rechargable batterie) to feed the monitor: Exposure meter for measuring light intensity of the scene: Accessory shoe for camera, tripod, tripod thread and an audio adaptor 6,3 to 3,5mm jack: Filters to screw onto the camcorder: Ein Set Step-Up- und Step-Down-Ringe: A set of ND-filters 0.3, 0.6, 0.9 & 1.2 (1, 2, 3 & 4 stops darker) in normal and gradual (SE): A bunch of cables for connection of audio and picture: Several DI-Boxes for audio-transfer: Solder- & glueing-stuff: A Multimeter and a Cable Tester Tapes, clamps, C47s, cords etc.: My AC's bag (cleaning and consumption material) and a label maker My
Leatherman

:


Some other Tools:







additional entries coming soon…